Remote Support

This section describes a way to allow your PC to be remote controlled by Kendall Optometry Ministry (KOM) to provide support should you have any problems. This only applies to your personal PC and does not apply to the KOM laptop PCs which are part of the optical kits.
Please Note
This remote control software is provided free to optical teams who are working with Kendall Optometry Ministry (KOM). The time of the support person is also free. It isn't; however, free to KOM. KOM paid over $700 to purchase the license to the software which provides this service. If you would like to donate toward this purchase, please write a check to "Kendall Optometry Ministry, Inc" and mail it to:
Kendall Optometry Ministry, Inc
4820 Nottinghamshire Drive
Jeffersontown, Ky. 40299
Include in the envelope a note with your E-Mail address and a receipt for your donation will be mailed to you.
You can also click this button:
and donate to Kendall Optometry Ministry using your Paypal account of numerous credit cards.

How to setup your PC for support:
First be sure your PC is connected to a highspeed internet link (cable or DSL).
Next, contact KOM by sending an
E-Mail
or calling 502-640-2227.
Finally, click the following button to get remote support from KOM.
If the above button doesn't work then click this
link
.
Click RUN and a download window will appear. Click RUN again and the below window will appear: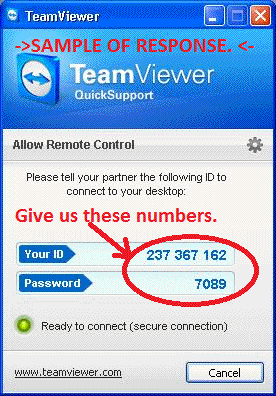 Tell Kendall Optometry the ID and Password which appears in the above and KOM will take over control of the PC.